03

Nov

£500 To Solve A Customer Service Problem – That's The Timpsons Way!
When you get a customer complaint, how do your front line people deal with it? Do they ignore it and leave it for someone else? Do they follow the 'proper procedures'? Do they pass it up to 'management'?
We all know that how a business deals with customer disappointment can go a long way to retaining those customers and those that do it effectively regularly increase customer loyalty.
I often talk about Ritz Carlton Hotels in my presentations and the fact that they encourage and empower their people to spend up to $2000 to resolve a customer's problem and the brilliant story of Customer Delight and Joshi The Giraffe highlights how they do this.  Although people love the story, I'm sure many think $2000?!!! That's ok for them, but not us!
Well, one UK business who does empower their people to do this are the locksmiths and shoe repairers Timpsons. Their people can spend up to £500 to rectify a customer's problem without management authorisation!
I've talked before about John Timpson and his Upside Down Management and he was recently on BBC Radio 4's The Bottom Line explaining how it all works – you can listen to that here.
Timpsons are a great example of a business that has established an UBER Culture, (More info here) and they do lots of things that demonstrate the key ingredients of 3D Characteristic #5: UBER Culture.
For example, 3D businesses ensure that everyone Understands what is expected of them when it comes to living 'the culture they want' and crucially, the behaviours they should display to live and reinforce that culture. At Timpsons they have made that very simple. Employees are encouraged to….
Look the part and put the money in the till!
Do anything else to best serve customers!
Simple stuff, but crucially, they don't just leave this to chance…
For example, they have Built Systems And Processes that help shape and reinforce the behaviours they want and need. These include….
Staff being able to spend up to £500 to settle a customer complaint (without management authorisation),
They can charge whatever you like – the price list is a guide only!
They recruit on 'personality' not qualifications, and look for people that 'fit' the business.
Other 'systems' that reinforce how the business values its employees include…
Staff getting a day off on their birthday
Holiday homes available for staff to use for free, and…
'Dreams Come True' where staff submit their 'dreams' entry and once a year and a lucky few have their dreams such as family reunions, dream holidays and experiences fulfilled.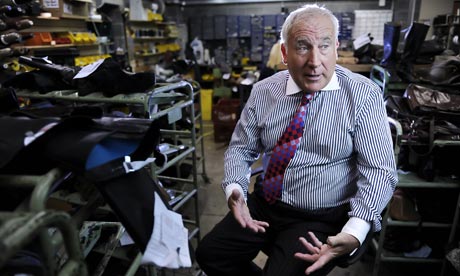 Timpsons Empower, Engage and Educate their people. Having spelt out the 'preferred behaviours' they want, they do all they can to help their staff 'deliver' them! This includes establishing clear guidelines, policies and procedures that help make this happen! For example…
Their staff manuals aren't just lots of words, but illustrations that staff are encouraged (and incentivised) to take home to absorb.
It's also about giving them the knowledge and training to make that happen!
Their customer service training sessions involve people actually going out to buy things and reflecting on and learning from, their experiences.
And finally, Timpsons Reward and Recognise the behaviours that they WANT:
Weekly bonuses are paid to all staff based on the profitability of the store they work in and it's very clear and transparent how this works.
Staff receive a higher proportion of the weekly bonus based on the training and development courses that they have attended and completed – John says the result is "staff pleading to attend Health & Safety courses!"
They proactively 'Champion their Champions' by sending personalised notes to individuals who've done great stuff (at their home address and sometimes with a little bonus cheque in it!).
As well as creating and promoting 'role models', they 'challenge' those that don't act in line with their 'preferred behaviours' and John says that they get rid of poor performing staff quickly!
You can read more about the Upside Down Management: A Common Sense Guide To Better Business which is John's book – alternatively, why not go into a store and 'experience' it? Ultimately, that's what this is all about – Timpsons don't do advertising, they believe that their customers do that for them!
That's what being 'Dramatically and Demonstrably Different' is all about!
And finally, you can download a simple assessment tool to see how you measure up against this UBER Culture stuff here – it's FREE!